tadi bosan bosan melihat gambar di iphone, pastu baru sedar yang bykkkk gile gmbar makanan dalam iphone sampai terus rase laparrr balik mengenangkan makanan makanan tersebut.
lokasi yang dirindui ialah
restoran Amigo
kat Melaka,
sape orang melake mesti tau kot kedai ni, kedai ni makanan dier sedap and murahhh!
yang paling disukai ialah serve dier sgttt bagus, waiter dier sgt polite and kau tak payah nak sweet-sweet jerit abangg abangg nak cili potonggg.. kat sini tak payah, jeling je sekali comfirm diorang tau kau memerlukan khidmat mereke. bagussss kann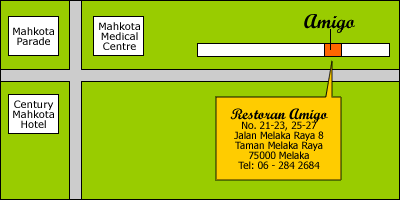 menu
macam macamm ado
tapi kalau nak gulai ayam cili api memang tak adooo la kan,
japanese food pun ade sini tau..
vanilla milk shake
chicken boxing ni sedapp..
kalau dtg jgn lupe order
memang sodap tak tipuu
artis jemputan
ni set encik pakwe yang punye
japanese food yang bername ape tah
pun sedap jugak,
portion dier besar
yang paling sedap ialah ayam tu la kan
tak silap ni dalam RM10 kot
dalam gambar memang tak menarik sebab selepas di gaul baru teringat nak ambik gambar..
hahahaaa..
tapi ni kurang sedap sikit,
tapi ok la jugakk
ni sedap,
dan pasti menggemukkan
HAHAHAAA..
name kompom tak ingat. ni 2 bulan punya gambar.
HAHAHAHAHAA
ok tak kelakar langsung.
banyak lagi bende tak rase kat sini,
takpe, ade lagi setahun setengah kat melake tu,
banyakk masa lagi,
duit je yang belum tentu banyakk,,
hahaaa
ok, selamat menelan air liur!